Upcoming New York Zero-to-Three Network Sponsored Events

Join us for our next
Networking Happy Hour
on June 27th from 6-8pm at Revival Bar.
Register today!

Save the Date
for our Annual Meeting, July 21st from 8:15am - 12:30pm at Visiting Nurse Service of New York (107 E. 70th Street, New York, NY). This year's meeting will focus on incarcerated families.
Look for registration information coming soon!
Highlights From Recent New York Zero-to-Three Network Events
Annual Conference 2017
Child Development and Infant Mental Health: Two Worlds or One?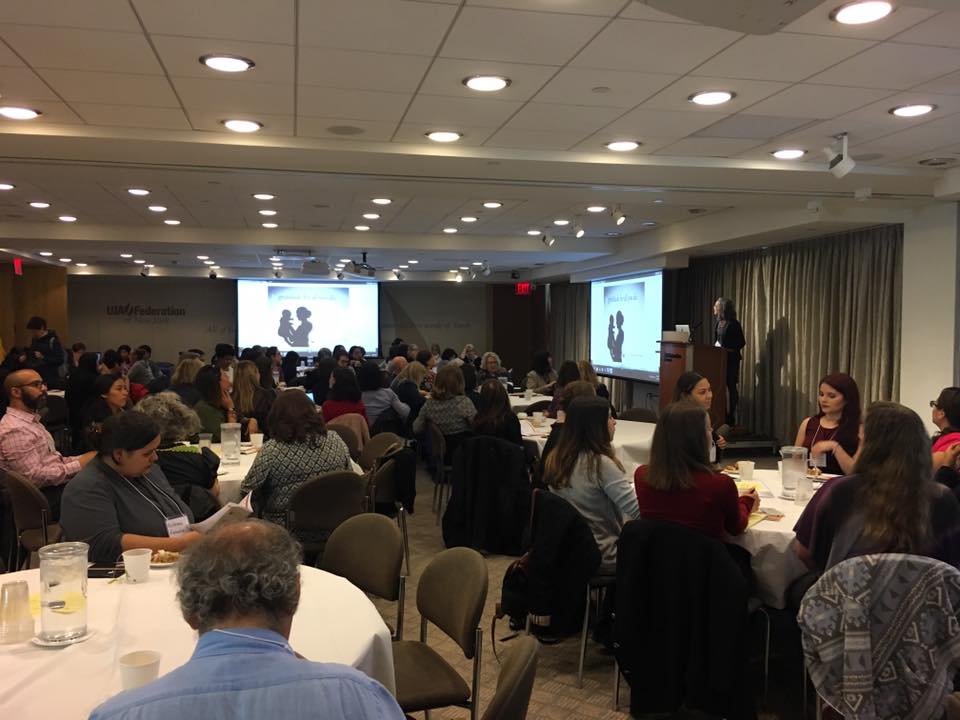 The 2017 Conference sustained NYZTT's annual sharing in the bounty of our presenters and all who attended! We enjoyed a wealth of information about research, development and practice across disciplines that nourished our own professional development and recharged our commitment to best practices for optimal outcomes for babies and young children and their caregivers. Healthy social-emotional development for a young child encompasses the capacities to experience, manage, and express a full range of positive and negative emotions; develop close and satisfying relationships with others; and actively explore environments and learn. Serena Wieder, PhD, led us on a journey through developmental stages nourished by the primacy of relationships, while Tal Baz, MS, OTR/L, showed us in exquisite video clips how a baby, and then child, made progress through responsive treatment. The morning truly demonstrated how all aspects of development are interdependent, integrative, and dependent upon the reciprocal relationship between the child's developmental capacities and the caregiving environment.

Our afternoon breakout sessions followed the Emily Fenichel awards (see below) and networking lunch, and highlighted strategies and diverse situations that families may face due to their immigration, developmental, and/or cultural experiences. We learned about a creative intervention for migrant mothers from Silvia Juarez-Marazzo, LCSW, NCPsyA, and two approaches to working with traumatized dyads from Ozlem Bekar, PhD, and Ana Rodriguez, PhD. Gil Foley, EdD, and Bonnie Keilty, EdD, helped us learn best practices for supporting families with children with special needs, through grief work and early intervention programming, respectively. Finally, Sabretta Alford, LMSW, detailed her own family journey with the early intervention system. Our participants gave us positive and thoughtful feedback which we will incorporate into future programming. Thank you to all!
Emily Fenichel Awards 2017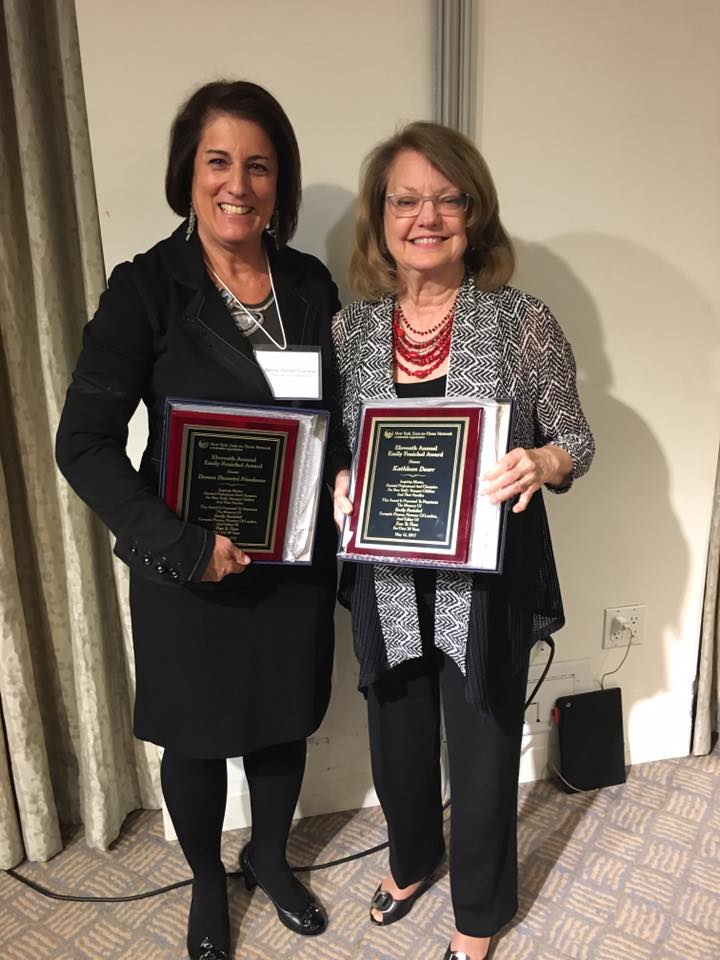 Each year, the New York Zero-to-Three Network asks for nominations of 'unsung heroes' in the birth-to-three field whose work has steadily made a significant impact on improving services and circumstances for babies and young children. In doing this, we honor the memory of Emily Fenichel, LCSW, longtime editor at national Zero to Three's journal, who tragically lost her life in an automobile accident in 2006. During her shortened life, she exemplified the enthusiastic and engaged professional who encouraged many to find and raise their voices on behalf of families with babies and young children. This year, NYZTT founding member Rebecca Shahmoon-Shanok, LCSW, PhD, sketched a brief and moving portrait of Emily to open the Eleventh Annual Emily Fenichel Awards ceremony honoring:

Kathleen Deerr, National Coordinator, Family Place Libraries, a lifelong advocate and 25-year professional working to make libraries into nurturing and community-building havens. She created local outreach programs on Long Island, and currently teaches and trains for the 400 Family Place programs across the country. Ms. Deerr fondly remembered that Emily Fenichel was the first person who encouraged her to write about her work, making this award ceremony particularly touching.

Donna Demetri Friedman, PhD, Executive Director of the Riverdale Mental Health Association, where she created the Early Childhood Center serving young families in Riverdale and surrounding Bronx communities. Her colleagues agree she has been a champion on the ground for babies and children for 25 years, as well as contributing to future generations of professionals by teaching, advising and editing a book on attachment-based work.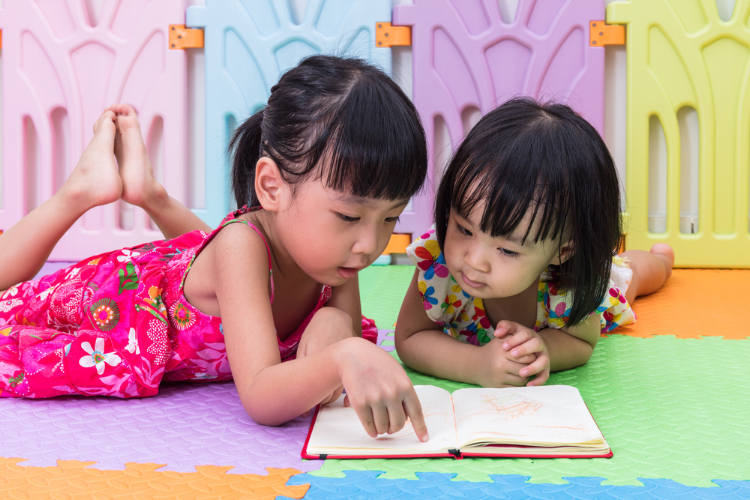 Highlights from Infancy Leadership Circles
Suffolk County Infancy Leadership Circle
At the April meeting of the Suffolk County Infancy Leadership Circle, the members began to work on a survey that will gather demographic data on its membership. Melissa Passarelli of Help Me Grow Long Island updated the Circle about the initiative on Long Island, during our May 23rd meeting. At the June 13th meeting a presentation will be led by Emily Torres to introduce the members to the program Pathways Toward Change. It has been a dynamic year for the circle, with new members joining and stimulating new ideas. Please contact Susan.Rabinowicz@stonybrook.edu for information.

Syracuse ILC Coordinator Amy Beale, LCSW-R, attended the NYZTT Annual Conference this year. We look forward to more opportunities to work together on expanding training for all ILC members across the state. Contact: bealea@upstate.suny.edu.

Erie County ILC co-chairs Kristin Macha, Karen Dearing, and Dina Spiropoulos, MD enthusiastically report that their circle has benefitted from a robust 'SWOT' analysis of community strengths and needs which resulted in a growing membership, well attended monthly meetings, and a two-part initiative. (SWOT=Strengths, Weaknesses, Opportunities, Threats.) Erie plans to raise local awareness about the unique needs of babies and toddlers, and to identify well defined action steps that support quality efforts and programs. Contacts: Kristin Macha (716) 877-6666 x3086 / Karen Dearing kdearing324@hotmail.com / Dina Spiropoulos spiropoulosdina@gmail.com.
Recent Literature from the Field
One of our plenary speakers at this year's annual conference, Serena Wieder, PhD, wanted to let our readership know that the Profectum Parent Toolbox is available for free at
www.freetoolbox.org
.
New York City is working through local agencies to build capacity in infant and early childhood mental health, notably through implementing evidence-based interventions in home-based preventive programs, clinic-based services, and mental health consultation to child care locations throughout the five boroughs. Listen
here
to a NYNMedia interview with the Jewish Board's Tonia Spence, Senior Director of Early Childhood Programs, and John Kastan, Chief Program Officer, about some of these new programs. We are so proud of Tonia for leading this important work!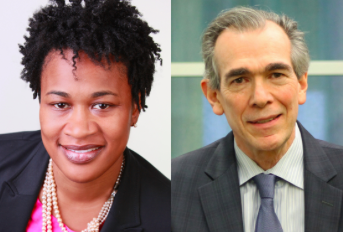 NYZTT, P.O. Box 60, Amawalk, NY 10501
www.nyztt.org

Hi, just a reminder you're receiving this message at [email_address] because you subscribed via our web site.
If you do not want to receive future email communication from us, please use the link: unsubscribe